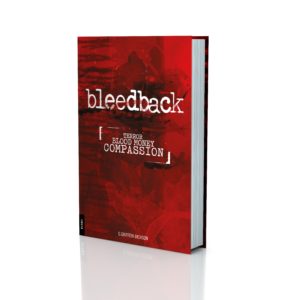 Featured Publication: BLEEDBACK
Bleedback is my first foray into the world of fiction; now I'm hooked.  For some of us the world of terror and counter-terror is not a news item but our daily struggle. I wanted to put the reader into the experience of those people – whether they are the people fighting it on the ground, the ones driving it forward, or people who are innocently entangled against their will in the defining battle of our age.
Buy it now at Amazon.co.uk, Amazon.com, or Waterstones.
PRINCIPAL PUBLICATIONS
Books:
Bleedback. Terror, Blood Money, Compassion.
(Ismo Books, London, 2016) Download the beginning of the book from the Bleedback website.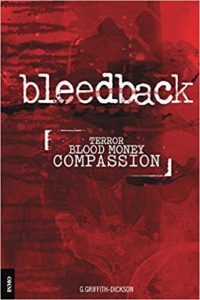 Written by an insider and saturated in realism, Bleedback immerses the reader in the conflicts of the war on terror. But this thought-provoking exploration of a post-Osama world is also lit by compassion, forgiveness, and redemption.
Reviews
'Bleedback is exceptional in that it marries authenticity, whilst remaining a riveting read. The foundations of Bleedback lie in its outstanding yet accessible scholarship; the structure is encased in meticulously researched and highly authentic reality; but above all, the story is combustible enough to blow the roof off.' (Noel Warr, formerly of Special Branch, Counter-Terrorist Command and the Office for Security and Counter-Terrorism)
'Bleedback is unique. While 9/11 and the war on terror have spawned many a trashy novel, this is a sophisticated page-turner, theologically and culturally informed.' (Prof. Sajjad Rizvi)
'This novel is for anyone who'd like to see a future that's built by discussion and compassion, rather than violence. An incredible political thriller that's also a primer on current Middle Eastern conflicts.' (Kirkus Reviews)
The Philosophy of Religion
(SCM Press July 2005) Preview on Google Books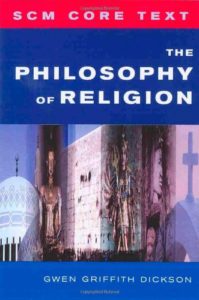 The Philosophy of Religion covers central religio-philosophical issues by including the work of major thinkers from Christian, Islamic, Jewish, Buddhist, and Hindu traditions as well as leading Western philosophers such as Aristotle, Descartes, and Kierkegaard. This allows for a uniquely comperhensive and insightful overview of religious pluralism, religious language, central metaphysical and epistomological themes such as creation and natural theology, and the divine human relationship including religious experience and the problem of evil.
Reviews
'Reading this text, one is struck by the sheer ambitino of its author in her attempt to present the various issues related to the philosophy of religion from a world religions perspective…The text is a marvellous overview of how differing religious traditions approach the philosophical issue…These chapters are insightful, frank, challenging yet accessible, broadly learned, and eminently fair to the views represented by many religious thinkers from varying traditions…an excellent texts for advanced students'. (Ronald Grant-Nuter, Theology, Ethics and Philosophy)
'In my judgement, Griffith-Dickson's text is by far the most comprehensive, inclusive, and insightful of its kind…It is indeed the textbook in the philosophy of religion most needed for our times.' (Eliot Deutsch, Philosophy East & West).
Human and Divine: An Introduction to the Philosophy of Religious Experience
(Duckworth Publishers, December 2000) Preview on Google Books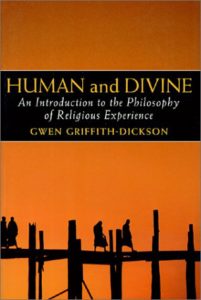 Spiritual encounters and the problems raised by evil and suffering are the experiences that affect our religious beliefs most powerfully. In this new introduction to the philosophical study of religion Gwen Griffith-Dickson attempts to fill an important gap by considering these questions squarely in the context of the world's many religions and philosophical traditions, giving particular attention to Continental European and Eastern philosophy as well as to Anglo-American thinking.
Reviews
'Griffith-Dickson's style is so fresh and so bold that one cannot but help being excited by this book…her highly nuanced treatment of these sensitive problems is just one more reason why this book deserves a large readership.' (Dr. Brian R. Clack)
Johann Georg Hamann's Relational Metacriticism
(Walter de Gruyter, Berlin, 1995) Preview on Google Books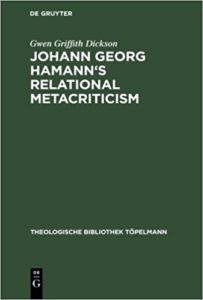 Translations, commentaries and analysis of some of Hamann's central works, introducing him to the English-speaking world.
Reviews
'Dickson's splendid work is one of the most singularly impressive (and underrated) achievements in eighteenth-century studies. Its thorough translations and commentary are responsible for the fact that Anglophone Hamann scholarship is beginning to flourish…' (Alexander Regier, in The Oxford Handbook of European Romanticism ed. Hamilton)
'Competent, unpretentious and knowledgeable…rarely do acdaemic publications succed as this one does in attaining the dimension of edification in the best sense…Dickson rivals the stature of Hamann'. (Dr. Udo Feist)
'A pioneering work, such as one cannot often announce'. (Professor Belfriede Büchsel, Deutsche Viertelsjahrs Schrift für Literaturwissenschaft und Geistesgeschichte).
A Passion for Critique. (Editor, with Herman Browne)
(Sit Publishers, Prague, 1997)
A book of theological and philosophical essays, all of which deconstruct various themes and suggest critcal and credible alternatives. These essays were written by students and colleagues of Fr. Joseph Laishley, by way of tribute to his genorisity and brilliance in supporting the academic endeavours of others.
All available on Amazon.co.uk or Amazon.com.
Book Chapters and Articles:
'Counter-extremism and De-radicalisation in the UK: a Contemporary Overview', Journal for Deradicalization, with Andrew Dickson, Robert Ivermee, Winter 2014/15, No. 1, pp. 26-37.
'Philosophy of Religion', in Routledge Companion to Theism, ed. Charles Taliaferro, Stewart Goetz, Victoria Harrison, Routledge, New York, 2011. Preview on Google Books
'God, I and Thou: Hamann and the Personalist Tradition', in Hamann and the Tradition, ed. Lisa Marie Anderson, Northwestern University Press, Chicago, 2011. Preview on Google Books
'Accounting for Evil – Justification or Explanation?', in Philosophy East & West, Volume 58, Number 4, October 2008. (A response to a review article of my book by Professor Deutsch, 'Rethinking Global Philosophy of Religion'.)
'Religious Experience', in Routledge Companion to Philosophy of Religion, ed. Chad Meister and Paul Copan, Routledge, New York, 2007. Preview on Google Books
'Education in Philosophy of Religion: A Lokahi Approach', in Educations and Their Purposes: A Conversation among Cultures eds. Roger T. Ames and Peter D. Herschock, University of Hawaii Press, 2007. Preview on Google Books
'Hamann und das Problem des Bösen', Johann Georg Hamann Heute, ed. Bernhard Gajek, Peter Language Verlag, 2004.
'Religion – a Western Invention?', Concilium International Journal for Theology, 2003, No.4, pp. 13-21.
'Johann Georg Hamann', The Stanford Encyclopedia of Philosophy (Fall 2002 Edition), Edward N. Zalta (ed.), http://plato.stanford.edu/archives/fall2002/entries/hamann/ (approximately 8,500 words).
'From "Self" and "Other" to "We". An Alternative To Philosophical Narcissism.', Chennai Journal of Intercultural Philosophy, 2002, Issue 1, Nr. 2, pp. 80-93.
'Hamann und die englischsprachige Aufklärung', in Johann Georg Hamann und England: Hamann und die englischsprachige Aufklärung, Acta des Siebten Internationalen Hamann-Kolloquiums zu Marburg, Lahn, ed. Bernhard Gajek, Peter Lang Verlag, 1999, pp. 71-82.
'Meinen Held Verstehen' in Johann Georg Hamann und England: Hamann und die englischsprachige Aufklärung, Acta des Siebten Internationalen Hamann-Kolloquiums zu Marburg, Lahn, ed. Bernhard Gajek, Peter Lang Verlag, 1999, pp. 429-443.
'Hamanns Relationale Metakritik', in Johann Georg Hamann. 'Der hellste Kopf seiner Zeit', ed.Oswald Bayer, Attempto Verlag, T übingen, 1998, pp. 242-262.
'The Roots of the Great Fig Tree' in Browne and Griffith-Dickson, (above).
"Outsidelessness" and the "Beyond" of Signification', Heythrop Journal, July 1996, Vol. 37, Nr. 3, pp. 258-272.
Translations (all from German):
Our Father, by Bernhard Häring, McCrimmon Press, 1994. Available at Amazon.co.uk and Amazon.com.
'Poetological Theology; New Horizons for Systematic Theology', International Journal for Systematic Theology July 1999, Volume 1, Nr 2, pp. 153-167.
'Hermeneutical Theology', Scottish Journal of Theology, 2003, Vol 56 Nr 2, pp. 121-147.
'Theology in the Conflict of Interpretations', Modern Theology, October 2000, Volume 16, Nr 4, pp.495-502.
Much recent research has not been in the public domain for security reasons.