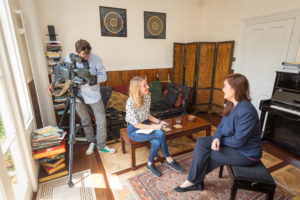 Interview with Sky News (2017)
Gwen is an assured media performer, with TV and Radio experience in Britain and the U.S. For media inquiries, please fill in this contact form.
Bio
Gwen Griffith-Dickson is a professor of religion and philosophy with practical experience on the ground, running a programme that prevented a terrorist attack and managing the United Kingdom's de-radicalisation programme for its first years. This unusual combination of deeper analysis with hands-on expertise makes her work powerfully effective when engaging with grass roots communities, police and government.
In 2005 she founded the Lokahi Foundation, a research organisation and social impact charity. Some of her achievements with Lokahi:
Prevented a terrorist attack by transforming police-community relationships through 'Operation Nicole'
Oversaw the UK's nationwide de-radicalisation programme, managing and evaluating the portfolio of government-funded Prevent projects
Ran a programme used by nearly every UK police force, bringing police and Muslim communities together and changing the way they interact in a weekend or a single day

Of 1275 people, 1221 rated the experience good, very good or excellent, with 430 finding it excellent
88% of the community said their understanding of the police had changed
Nearly 90% of the police said they understood better the impact of their operations on communities, and 85% said they understood better how the community could be positively engaged

Created a community engagment programme for the US government for the National Counter-terrorism Centre (NCTC) & Department of Homeland Security (DHS)
As an academic, Gwen was the first female Gresham Professor of Divinity in its 400 year history. She developed and ran Britain's largest Continuing Education programme in Religious Studies, Islamic Studies, Philosophy & Theology at Birkbeck College, University of London. As Vice Principal at Heythrop College, University of London (again the first woman), she masterminded the overhaul of Academic Strategy, curriculum and research. She is currently honoured to be part of the academic community at King's College London.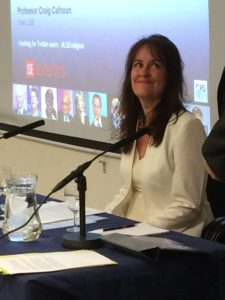 Religion, Security and Strategy: Lecture at LSE (2016)
Video
Wall Street Journal:
Radio
BBC Radio Four 'In Our Time' by Melvin Bragg, speaking on William James and the Psychology of Religious Experience:
BBC Radio Four, 'Start the Week' with Andrew Marr talking about the non-religious factors in radicalisation and tackling emotionally manipulative recruitment techniques (2008): http://www.bbc.co.uk/radio4/factual/starttheweek_20080421.shtml
Interview on Tell Me More with Emily Scheivert, detailing how to be successful in preventing terrorist attacks: